Facebook Virus pulls in victims with fake Obama and Clinton sex scandal video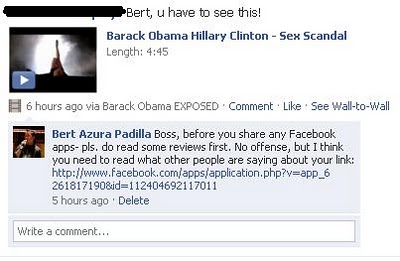 Just a quick report on a virus that is said to be doing the rounds on Facebook. Called Koobface it supposedly uses a fake news video about an affair between Barack Obama and Hilary Clinton to make users click on the link. According to reports online users get a video about Barack Obama posted on their walls supposedly by their friends. In fact it has been posted by the spam application which might then use it to gather spam information.
People are warning not to click on the video or to try and play it.
The message going round warning about it reads:
VIRUS SPREADING LIKE WILDFIRE ON FB. ITS A TROJANWORM VIRUS CALLED KOOBFACE. IT'LL STEAL YOUR INFO, INFEST YOUR SYSTEMAND SHUT IT DOWN. DO NOT OPEN THE LINK (BARACK OBAMA CLINTON SCANDAL)IF SOMEBODY CALLED "SMARTGRRL15″, ADDS U, DON'T ACCEPT IT…IT IS AVIRUS. IF SOMEBODY ON UR LIST ADDS THEM, U GET THE VIRUS TOO. FB USERSDO NOT ADD HER !!!! COPY AND PASTE AND PLEASE REPOST"
We're not sure exactly what the results of clicking on the video are – but don't. A post from cite-technologian gives the most useful information about it, saying it's linked to an app called Barack Obama Exposed and to beware of getting notification that a friend has posted a video on your wall.
Cite-Technologian have some more useful info:
"Facebook has no update yet what kind of malware is this. But it's clear that Barack Obama-Hillary Clinton Scandal is a virus. Some says that this is identical to Koobface, a malicious computer worm that targets the users of the social networking websites which ultimately attempts, upon successful infection, to gather sensitive information from Facebook users."