Question: Why has Facebook introduced Facebook Questions?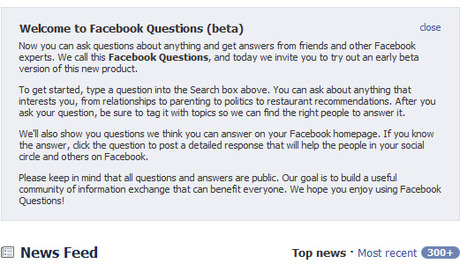 I was a little baffled that facebook was asking me to ask it a question. Of course my first question was why it had started asking me to ask it questions. This got no response. It looked like one I would have to figure out for myself.
Strictly speaking, the questions aren't to Facebook the tech company, they are to the other members of Facebook. All 400+ million of them. And it is possible that all 400million of Facebook's members could see your question (with your face and name attatched to it) because questions are always public.
Type your question into the search box – now the "search and question" box – and it is released into the wide world for anyone who wants to try their hand at answering it.
There's a moderate button on the side of each question.. so if someone is asking something flagrantly inappropriate then it can be nixed. Otherwise literally anyone can post a reply.
How will people see your question? well, for starters, it turns up on your wall and in your news feed – so all your friends see it popping up. Then – and this is the interesting bit – Facebook then posts it out to people who it thinks might know the answer. How does it figure that out? Well, interesting question. Someone asked it in fact. Here's one response below: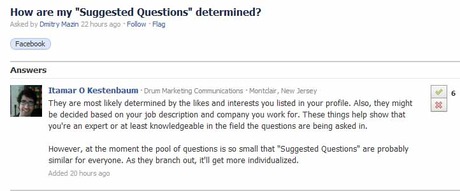 Basically given how much Facebook knows about you, and what you like and what you type into your friends' walls – I guess they have a pretty good idea of what you're interested in, and knowledgeable about. In that case, they'll route those questions over to you.
Lots of the questions already asked revolve around Facebook Questions. For example:
Conclusion
So I've got to say I like it. There's obviously a very small pool of questions on there as it's early days, it's going to ramp up and even if it just used a fraction of the people on Facebook, that's still a vast pool of knowledge.
As always privacy is an issue – if you've got a really difficult problem, perhaps something a bit personal or embarrassing… you won't want it showing up on Facebook. You'd probably rather google it and take a discreet trip to the doctor's. Unless they develop a way of doing it anonymously this is going to be best for abstract objective problems.. Though this guy below thinks asking about a relationship problem is fine. – NOT IF YOUR PARTNER IS YOUR FRIEND ON FACEBOOK.
It'll be interesting to see the questions to answer that end up getting offered to you: that could be potentially embarrassing as well – proving that you spend too much on Red or Dead.
It won't be as instant as Twitter – but in an attempt to make Facebook more useful, it could be pretty cool.
Let's see if this beta feature gets rolled out big time.