Nigella Lawson launches voice controlled iPhone app: mmm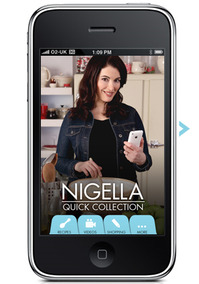 Nigella Lawson has teamed up with Random House to produce a cookery iPhone app that can be controlled by voice. Containing 70 recipes and 40 minutes of video content it clocks in at a pricey £5. Called the Nigella Quick Collection all the recipes are done in six steps or fewer, and users can move through the steps by saying "forward" or "backwards". Users can also leave audio notes on the recipes.
The voice-control makes great sense – you don't want to be smearing cake mixture or meat jus all over the nice iPhone touchscreen everytime you need see the next step of the recipe.
But we note that "voice control and audio notes are only compatible with iPhone and iPod Touch 32GB devices with microphones". Well, all iPhones have microphones, but not all are 32gb, so this means it might not work for quite a lot of devices. We hope it recognises normal voices too and not just the silky tones of Nigella.
I also hope the next version will be controlled by salacious gestures.
Nigella Quick Collection, £5 on iTunes
and on her site