Love Bullet from SexToys.co.uk vibrates to music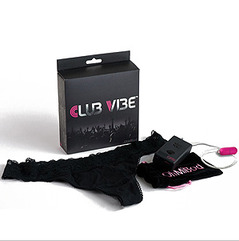 This seems a bit rude for a Wednesday morning, but well, that's what we do here. Sextoys.co.uk have just launched a sex toy called the O Mi Bod Club Vbe – a love bullet that detects sound and vibrates to it.
Slip the bullet inside, clip the sensor to the knickers provided and chose one of three modes:
Ambient – Vibrates to the sounds around you. Whether it be music or your lovers voice, your orgasms will be tuned in to your surroundings to take you to another level. (could make the building-work opposite more pleasurable).

Music – vibrates to the beat of your ipod, iphone or mp3player.
Manual – choose from 7 vibration patterns and control them using the control pad.
Oh My. That's what we like, stimulation *and* some smart tech thing.

£57.95 from sextoys.co.uk