Butterflies on the Notebook: HP's Vivienne Tam Digital Clutch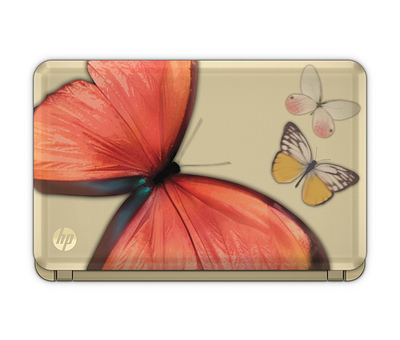 Well, we said that phones might be dead, but we didn't reckon on fashion laptops disappearing, and my they haven't.
HP teamed up with designer Vivienne Tam to release the Digital Clutch, their second collaboration with the designer in two years. The result is a stylish HP 210 mini featuring a case design by Tam. She has drawn on the same inspirations for the computer as for her Spring collection – butterflies (as you may have guessed). HP tell us it is "inspired by the classic Chinese love story, "Butterfly Lovers," a beautiful tale of freedom, romance and inspiration."
The sunset orange of the butterfly wings contrasts with the pearly grey of the case making for a very beautiful calm scene. Smoothly incorporated into New York fashion week, models on Tam's show walked down the catwalk with the clutches in their hands.
Behind the butterfly case, it's a nice 10″ notebook with all the smooth operation you'd expect of HP packing Windows 7, but only an Intel Atom chip and a not so stunning 5.5hr battery life.
It's a pricey £400 ($599). You could get similarly specced laptops for less of course, but it *is* a nice butterfly isn't it.

See Flickr for some more beauty shots of the notebook.
Vivienne Tam HP Mini, preorder $599 from Amazon