Got an idea for an app? Samsung want to hear it..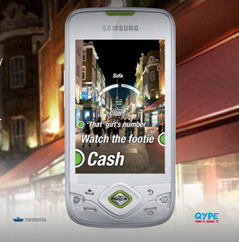 Sometimes people have great ideas for apps, but just don't have the developing skills to create them. Well in conjunction with the launch of their first phone to use the Google Android operating system, Samsung are launching an app idea competition.
All you need to do is think of an idea and submit it to their website, skipping out all the tedious developing aspect.The winning app idea will get made..
Suzi Perry, TV presenter and gadget expert, will be short-listing the ideas that will be put to a public vote. She sets out the criteria: "I'm looking for ideas that are fun and inventive or would be useful to my everyday life. It's so exciting to be able to make someone's idea become a reality as most people would be put off even thinking about developing an app because it's too technical. We're urging people not to worry about that….we don't want to constrain creativity."
My ideal app? currently that would be something that let me turn a desk and a wall into a keyboard and screen so I didn't have to drag my laptop around with me everywhere. Okay, you'd need to invent a projector accessory to do that too. And it would have to sync remotely with my computer too. And probably have a spare battery. And order coffee?
If you want to enter send in your idea via the website http://www.galaxyportal.co.uk/. The idea that gets the most votes gets made and will be available for everyone to download from Android Marketplace for free. As well as seeing their idea become a reality – the winner also gets £2,000.