Apple iPad to launch 3rd April in the States, mid April UK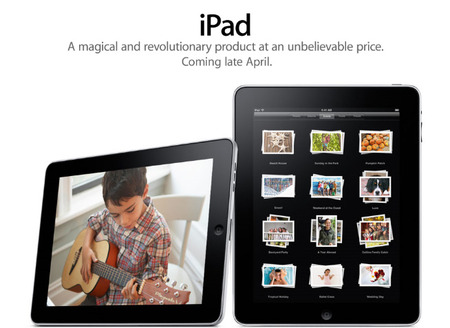 We knew it was coming out in April, or quarter 2, but we've finally got an on-the-shelves date from Apple for their iPad or Jesus gadget in the States. Hitting US shops on April 3, It's slightly earlier than expected.
The UK will be "a few weeks later" according to Steve Jobs, so that could be as early the 15th. Still nothing definite on the UK price, but as stated at the launch back in January: the Wi-Fi models will retail for $US499 for 16GB, $US599 for 32GB and $US699 for 64GB, with the 3G models to sell for $US629 for 16GB, $US729 for 32GB and $US829 for 64GB.
Americans will be able to pre-order both the Wi-Fi and 3G models from Apple's online store starting from next week, March 12, but there is no pre-ordering as yet for the rest of the world.
Watch this space.