Hands-on with TimeScape: Sony Ericsson's brilliant message mash-up app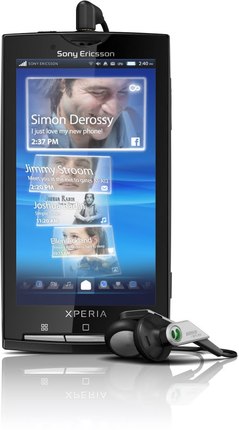 Sony Ericsson's social media mashup app TimeScape is a real treat. It's a feature of the user interface on its new Android phones: the flagship Xperia X10 (out in April) and the X10 Mini, and I got a chance to play around with it yesterday.
Sony Ericsson's aim with TimeScape and sister app MediaScape is to integrate the user's online and offline experience really closely. Adding a fast processor and the Android OS with its super fast internet access, this phone had the power and the data access to really meld info together.
For example: the TimeScape app flows emails, text messages, notes, Twitter and Facebook notifications into one very visual home page, that's very intuitive to operate through the touchscreen. You can search individual threads of course (just Twitter) or cut across all by searching for a particular term, or person.
The MediaScape works on similar principles: look at photos and all your photos on your phone will show up but also those on online accounts that you've linked to: Picassa, Facebook, Flickr. Search for the Artic Monkeys and results from your music collection come up but so do ones from Youtube.
It's very smooth. These apps really add a whole extra something to the Android OS.
And if you want some more apps – there's always the Google Android Marketplace to browse through.