Meet the world's first see-through toaster: the Magimix Vision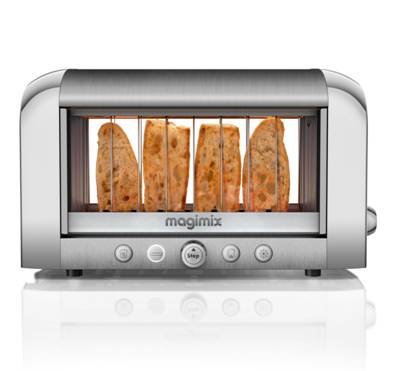 If you're particular about how brown your toast is, finally there's a toaster that will let you check exactly how brown your toast is before switching the heat off.
It's a see-through toaster. Named the Vision Toaster, makers Magimix claim that it is the first toaster of its type in The World. The clear glass panels built into the walls let you see what's going on, while the long life quartz elements give constant heat for consistent browning.
Who knew toasters could reach such heights of technical perfection?
Simon Kinder, MD of Magimix explained the dream behind the Vision Toaster:
"People wanted to see their toast going brown while it hovered in front of them so they could toast it to perfection. Now they can do that and make sure it doesn't come out black or burned to a crisp."
Beautiful. This breakthough in the toasting world has admirers but also detractors with blog the L Magazine decrying it as nothing more than a "torture chamber for bread" sadistically fitted with observation windows. Lol. Well. Since I torture bread everyday, I'll easily be able to swallow my toast with an extra helping of guilt if need be. Just as long as its exactly the right shade of brown.
Costing £160, the Vision Toaster will be available in shops in the UK from January 2010.