iPad cases: let the skinning begin…
So, we finally got the measurements, and case makers have already got busy and there are at least two ranges out already that I've heard of.
The iPad poses an interesting dilemma for the casemakers – smartphones get tight-fitting skins, laptops get bags – what will the half pound, 10″ iPad get? Looks like skins are winning so far. Protect that capacitive touchscreen with some tight fitting rubberised plastic or a sleeve or jacket that you can then slip in a rucksack or handbag.
Griffin Technology have already launched a "for iPad" range and as well as "sleeves" and "jumpers" they've also opted for an interesting "passport" style case which opens up like a book to reveal the screen (see full range here; pricing to be confirmed).

Wrappers are offering some funky textile cases: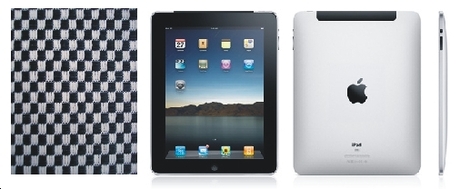 I particularly like the black and white check one, though it's by Ralph Lauren so comes with a hefty £38 price tag. Full Wrappers range here.
I'm sure we'll get many more of these..