CES 2010: Lenovo releases mobile smartbook the Skylight
All the big manufacturers at CES this year are knocking out rivals to Apple's forthcoming Tablet: call them tablets, slates, netbooks or what you will, this is the hot area in hardware.
Lenovo have brought in some heavy-hitting gadgets to this new niche. We already looked at the IdeaPad U1 Hybrid – half-laptop half-tablet, and another of their key products is the cute little Skylight.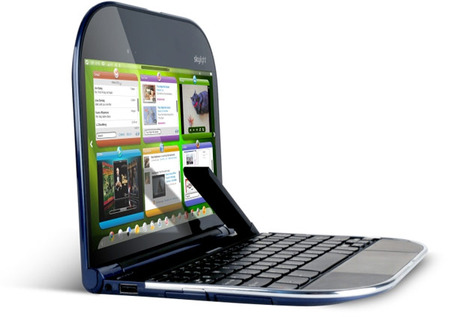 It's a smartbook. If you can keep up with all the new names flying around, a smartbook is supposed to be a cross between a smartphone and a netbook. Lenovo say: "Skylight harnesses the best of smartphones and netbooks to create a new mobile consumer device." It's powered by a Snapdragon chipset, used in smartphones like Toshiba's TG01 and Google's new Nexus One, and designed to run rich functions on low power. That's ideal for mobile devices which need to economise on battery use and gives the Skylight a whopping 10 hours of battery life.
The Skylight is little, colourful and cute boasting all day battery life, robust wireless connectivity and a custom interface with live web gadgets (apps). Lenovo have already hooked up with network providers AT&T to link the Skylight up to their 3G mobile broadband network in the US.
Thinner than many smartphones, it has a high-definition 10 inch screen and comes in glossy lotus blue or earth red.
The Lenovo Skylight smartbook will be available starting in April in the U.S.It will be available in China and in Europe later this year. In the U.S., it will be sold through www.lenovo.com, www.att.com and AT&T retail stores. Pricing will start at $499 at full retail price.
See all stories from CES 2010 here