CES 2010: Kodak launches a waterproof video cam and a cool search function
Kodak has announced a waterproof pocket video camera and a new touch screen camera with an unusual search feature in its raft of products for CES.
The Kodak Slice is a touch screen digital camera which stores up to 5000 photos on the internal memory. It shoots photos and videos in HD. The interesting feature is a search function which uses facial recognition and stored information about location and time of the shot to let you sort photos according to who's in them and when and where you took them. The Slice is wifi-ennabled meaning that you can share photos from your camera instantly with Facebook, Flickr or Youtube.
The Slice Touchscreen Camera will be available in black, nickel and radish for £299.99 beginning in April 2010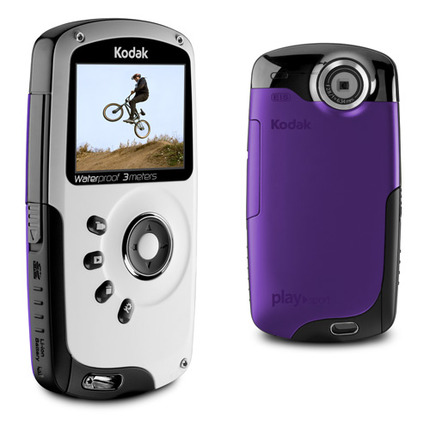 Kodak's Playsport Video Camera shoots in HD and works underwater – up to a depth of 10ft. Meant for rugged adventurous video shooting, the one-button to record make the device very simple to use. You can buy accessories which let you mount the camera on your helmet, handlebars or just hang it around your neck.
The PLAYSPORT Video Camera will be available in Abyss (black), Wave Crash (blue) and Adrenaline Rush (purple) for £129.99 beginning in April 2010.
See www.kodak.com for more information on both