Gold phone is Gold: Nokia adds a lot of bling to the 6700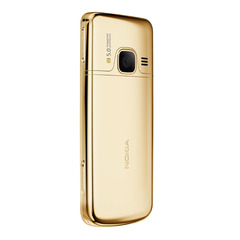 They've put diamonds on iPhones and crystals on Blackberrys, now the Nokia 6700 is getting it's turn and the 6700 Gold sure lives up to its name. Plated all over in 18 carat gold, this classic phone has got a bling update and will be going on sale early next year.
You can even set the wallpaper to, yes, a gold colour.
The 6700 is known as the "little black dress" of the phone market – a classic piece – according to site Nokia Conversations. It's got a 5 mega-pixel camera, 3G mobile internet connectivity and 8GB microSD slot, to store those high res pictures on.
So, if you like gold – you'll like this phone… and may be prepared to shell out the €370 (before tax) that it will cost.
The Gold Edition is expected to go on sale in the first quarter of next year.
[via NokiaConversations]
Related: The Most Expensive iPhone ever?