We love Curry more than Robert Pattinson, well.. if you go by Facebook fans..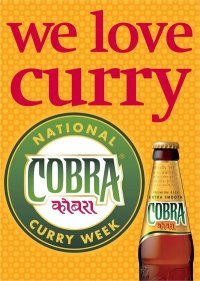 Curry seems to be more popular than heart-throb Robert Pattinson. Well there aren't many situations where the two are in direct competition, but if you measure popularity by Facebook fans, then curry beats Robert's new film.
Facebook page 'We Love Curry' attracted 32,000 fans in the first day of its launch, making it a faster growing page than Twilight sequel New Moon.
Beer-makers Cobra created the curry page as part of National Curry Week. The page asks users to offer insight into their curry eating habits and contains curry 'cook-alongs' from amateur chefs throughout the UK, and BBC's 'Indian Food Made Easy' chef Anjum Anand, to help encourage Brits to cook curry from scratch in the home.
There's a suite of little polls along the lines of which night is curry night? And which curry are you? They seem to have tapped into something big, if the comments are anything to go by: there are lots and they are very enthusiastic:
"MMMMMMMmmmmmmm……..HAVING A SPECIAL MIXED BALTI MADRAS TONITE………and probably another 2 times this week x mmmm"
The page has attracted some chilli masochists who leave comments along the lines of: "the hotter the better" and" Phall all day long, it offends if I am with someone who orders chicken korma!" also "Has anyone tried the "Satan's Ashes" curry pack from Starley's Spices? It's heat-heaven :-')mix"
Want to express your love of spices? Join the fan page here