Emporia's Talk Premium: a simple phone for the 50+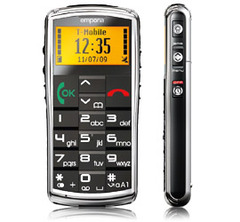 The Talk Premium mobile phone is certainly a bit different. As a general rule, new phones tend to have more features than old phones. But the chunky retro-looking phone from Emporia does exactly the opposite – stripping the mobile phone down to its basic features.
Where other handsets let you record music, play videos, listen to the radio – hell – feed your dog, this lets you do three things, and that's it:
1. Call people
2. Text
3. Set an alarm
There's also a sweet little LED torch light.
With large buttons and an easy-to-see screen the Talk Premium is aimed squarely at an older generation – and I could see it taking off.
Launched in Austria by a husband/wife partnership, Emporia phones have done very well there, and also in Germany and Poland where demand was five times higher than expected.
This is the sort of thing that your grandparents/ parents always ask for and here it is. Emporia is a lone player in a market dominated by feature-rich phones aimed at the young and hyperactive.
Emporia's UK manager Chris Bignall told me that the philosophy of the business is simplicity. And for a large section of the population, that's what people want.

Talk Premium's Features:
– Large handset (123mm long by 58 wide and 17 thick)
– Large buttons, for dialling and texting
– Easy to see screen – big text and orange colouring (apparently the most visible colour for anyone with eye defects. This includes me, I'm short-sighted)
– Use of side buttons rather than an on-screen menu
– Extra loud loudspeaker
– Long battery life (180hr on standby)
– Hearing-Aid compatible
At first according to Bignall, someone buys the phone as a gift for their parents, then as given oldie shows it to their friends, it spreads and more people notice and buy it.
For more information see Emporia's site and the Talk Premium will be, we hope, available in stores soon.
Costs £104.99 for the handset with £5 free credit, through Talkmobile UK – more contract details available later.