Cut your hair virtually with Hair Salon Nintendo DSi game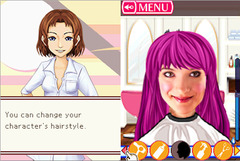 Out on 27th Nov, new Nintendo DSi game Hair Salon from 505 will let you be a virtual hairdresser -and cut your friends' hair on screen.
Capable of incorporating photos of you and your friends, the game uses the DSi's facial recognition to get exactly the right size and angle of shot. You can then use yourself or your friends as models or customers.
Time to give your little sister the pink up-do you always thought she would suit.
You, the player, are put in charge of a professional style studio and get credit for perfecting your techniques and being able to perform them as customers desire. If you keep the customers happy and balance the books, your salon grows in reputation and financially, unlocking styling competitions so players can win awards and climb the ranks within the salon world.
It's like global domination but of the hairdressing world.
Described as "the perfect game for all girls interested in hair and make-up" we say it's probably fine for boys interested in hair and make-up too.
Inbuilt wifi on the Nintendo DSi console lets you share your creations with other players of the game.
Hair Salon from 505 exclusive to Nintendo DSi console from 27th November 09