A mystery film, a secret location, some Microsoft employees: that'll be Secret Cinema collaborating with Windows Mobile then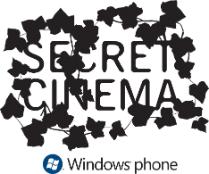 An underground cinema group are teaming up with Windows phone. Sound like an unlikely partnership? Well yes – but basically it all culminates in a film screening in London on the 31st October. It's a mystery film in a mystery location – but from the look of things, it'll probably be trendy. As well as a mystery film, there be a wall displaying twitter feed from the event, and some Secret Cinema staffers and Microsoft employees showing out the new OS on Toshiba TG01s.
An unusual start to Hallowe'en? Yes, well the event is only half of it: they don't just tell you where the location is… you have to work out from clues on their twitter feed and website. Some tweets are clues, some are red herrings.
The last secret cinema meeting in London was an outdoor screening of The Warriors at London Fields – 2,500 followers arrived unaware of the film they were about to see and found themselves transported into a life sized version of New York's Coney Island.
And of course you can connect up to Twitter and Facebook on your social-network friendly Windows phone.
If you live in London and fancy a film/little chat about the new Windows phone on Saturday you'd better start clue-cracking now.
See Secret Cinema's website here: http://www.secretcinema.org/
And their Twitter page here: http://twitter.com/secretcinema