ShinyShiny review the Hi-Grade Notino W5900 laptop: the Sex and the City laptop
Andrea mentioned the release of the W5900G Notino laptop from Hi Grade last week – we just got our hands on it today and thought we'd give it a quick refresh.
The big selling point of the W5900 is the design. The glossy hardback case of the W5900 looks a like collaboration between Gustav Klimt and Sex and the City. It's a picture of girls (on a catwalk? shopping?) in pretty little mosaic dresses.
I don't know if the gloss wears off, but it is shiny and there's a strange distorted fishnet background that gets a bit hypnotic if you keep looking at it. Anyway. There's also a pink leopard skin one, I like the sound of that, and a graffiti design. And the inside, with its white buttons, silver facing and blue details is pretty cute too.
Follow on after the jump
Specs
As for the specs, retailing at £395, it's like a decent netbook – not high-power laptop standard. But saying that, it runs Windows Vista, has a dual core chip, integrated webcam and a rewritable DVD drive. That means 2gb of RAM (the computer's processing power) and 220gb of hard disk storage. Not bad and much better than the Atom chips that a run-of-the-mill netbook packs in.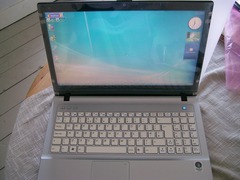 We were looking at the 15.4in screen version, and I have to say the Notino could benefit from coming in a more portable size. The trend for mini computers can make it risky to have a largish laptop-sized computer with netbook-sized brains. Last month Dell pulled its 12 inch Mini as customers either went for a high quality laptop or a tiny 9 inch netbook. Anyway, coming in under £400, it is pretty good value if you want a basic laptop which looks good. The larger size of course means a bigger screen and an easy to use keyboard.
The W5900 would be great to tote along to Starbucks with you, to send emails while showing off your case bling. Obviously Hi Grade intend you to take it out and about as it comes in its own sturdy little Tech Air bag. Battery life is 2.5 hours on an energy saving programme, but more like half that if you're running the computer at full tilt. One little caveat is that the fan is a bit asthmatic and slightly noisy.
Verdict
If this were more hand-bag sized with a stronger battery, I'd be more tempted by it. But if you don't mind the extra few hundred grams which come with larger size (total weight: 2.7kg), you may be seduced by the sexy designs.
Available for £396.75 including VAT from Hi Grade