Love Honey wants you to create your own sex toy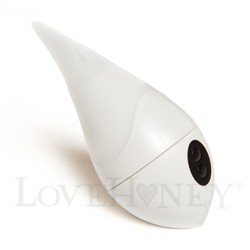 While we're on a bit of a, er, naughty toy, buzz we thought we'd tell you about something we stumbled upon on Love Honey (we were doing some research for you guys).
No it's not a vibrator or cock ring or anything you might expect when we talk about sex toys, instead it's a range of videos by the company's very own "Professor" and other reviewers giving advice, on well, the best way to use items.
Read on after the jump
They talk about how to use them, from inserting (calm down, it's not that bad) batteries to switching it on and what they are good for – being no stranger to these at Shiny, we think we have a good idea of what they do.
The latest video on the site is by Bonnie Hall, who talks about the company's Ki-Wi product, which is claimed to be a body-friendly vibrator with a difference. Its entire build, design and function is said to be for the purpose of pleasure.
And there's no unnecessary buttons or switches, no clunky base, no annoying hard-to-grip twist dial – just pure, simple sex toy.
Not impressed? Well if you think you can do better then maybe you should design your own lovely gadget.
Love Honey has launched a Design A Sex Toy Competition giving you the chance to win £1,000 and have your idea turned into reality.
The company has teamed up with international sex expert Tracey Cox to launch the search for a new sex toy design – it's Britain's Got Sex Factor.
You can show off your design any way you like, from drawing on the back of an envelope, modeling it with Play-Doh or using a computer graphics program.
Visit the site for more information.