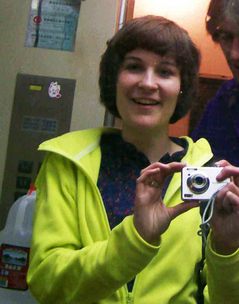 Oh HAI everyone! I'm Anna, the new editor of Shiny Shiny, tentatively taking the place of the lovely Zara and stepping into a long line of distinguished, witty and knowledgeable Shiny Shiny editors and contributors.
Since I'm also stepping into the radar zone of Shiny Shiny's distinguished, witty and knowledgeable readers, I thought I'd introduce myself and say that I'd really like to hear about the things that you want to see on the site.
Follow on after the jump..
Me? oh, I'm just an internet-addict who likes playing around with shiny things, whether they glitter, vibrate or just do complicated things with data. (You can probably see from the picture how happy a simple digital camera makes me.) I used to be geeky in a booky way, now I'm geeky in a techie way. When I first got my iPhone I wanted to get it embedded (literally) in my arm because I liked it so much and didn't want to be separated from it, but, with hindsight, it's fortunate that that wasn't medically possible.
But we all know no gadget is perfect and I will be casting an objective, glinty eye over the rich offerings of the tech world to you, the Shiny Shiny reader.
Changes
The powers-that-be at Shiny Towers have been thinking of making a few changes on site. So as well as focussing on core Shiny Shiny territory – important gadgets explained accessibly and weird gadgets explained with bewilderment – we want to include software (like mobile apps) and more of the style around geekery, glasses, computer-themed cupcakes & suchlike.
I'd also like to include a little commentary on web culture, tackling pressing questions like: Should you to put whimsical updates in your gmail g-chat status box? (I mean, what if your boss uses gmail too ffs), When it is not okay to say LOL? And the good, the bad and the plain WTF of internet dating.
Any thoughts?
Any thoughts dear readers? What sort of things would you like to see on the pages of Shiny Shiny?
We have a little redesign on the way too… any tips on how we could improve the layout? Should we keep the pink?!?
Do please comment below, email me at [email protected] or chat to us on Twitter – @shinyshiny
Anna x