Extend your man bits and get the Male Edge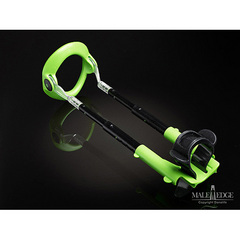 I'm a little concerned. There's a few things wrong with this sexual tool, otherwise known as a penis extender. For a start, it *so* does not look like a piece of sexual apparatus – it looks like a sealant tube frame. Secondly, it looks like it'll hurt whosoever foolishly puts their genitalia inside its jaws. And lastly, its price tag starts at £114.95 – a high price for any sexual accessory.
But it might be worth it. We've been told it'll 'give you the penis you've always dreamt of' (up to 3.5-inch more apparently). There's no mention of a money back guarantee if it doesn't work though. I won't go too deep into how it works; it's a little too early for gag reflexes – if you want a detailed description, click here (you can get a 360 degree view here too). I can however, tell you it involves traction, skin tissue expansion and cell growth simulation. Oh and there's an instructional DVD too.
In the words of the press release – 'Have an edge – the male edge', *gag*.
Visit sex toys.co.uk for the basic (£114.95), extra (£124.95) or Pro (£149.95) model.
Check out more naughty toys here