Motoroa's QA4 Evoke definitely evokes something *ahem* iPhone *ahem*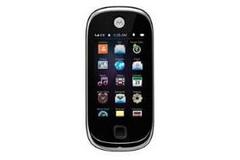 It's pretty darn obvious where this touch sensitive beaut took its inspiration from. Upon first glances it's an iPhone replica, equipped with a sizeable 2.8-inch touchscreen and a UI which takes its cue again, from the iPhone (perhaps with a dash of the Palm Pre) complete with Apple-esque icons. Get a bit closer and the similarities begin to diminish. The QA4 is actually a slider with a bog standard alphanumeric keypad, although the presence of a touchscreen gives it a more refined design.
Under the hood, you're looking at A-GPS, Bluetooth, accelerometer, a measly 2 megapixel camera with MPEG4 video capture and full HTML browser on an EVDO connection, as opposed to 3G (so wave goodbye to satisfying and speedy download speeds). The phone also features integrated widgets, something we're seeing on a lot of handsets of late, and instant messaging.
There are talks of a release in the US over the next three months, but the UK seems to have been strategically left out of this discussion. And Moto hasn't even given us a mention. The moment we hear about a UK release, so will you.
[via Electric Pig]
Why not take a look at the review of the Nokia E63 below?
Check out the latest phones here