Lenova Pocket Yoga – the netbook that should have been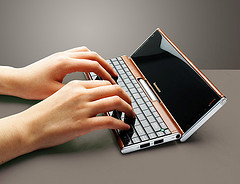 Lenovo got web dwellers hot under the collar recently by letting a few images of its concept netbook – the Pocket Yoga – slip onto its Flickr photo stream. I don't quite know what to make of the moniker 'Pocket Yoga'. Is it spirituality and tranquillity in your pocket? I don't get it. Oh, it's because the double jointed hinge in the middle fold all the way around, to hide the keyboard underneath the touch sensitive display and just use it as a tablet.
It turns out it doesn't matter anyway – it's been revealed the Pocket Yoga is a two year old concept and we should have in fact copped eyes on its diminutive beauty in 2006/7. Sadly, all that's real about this netbook are the pictures.
Lenovo confirmed the images of its netbook/tablet hybrid on Flickr are just that – images of a two year old prototype that in all probability would have put Lenova waaaay ahead of the rest in the netbook stakes. Instead Sony's Vaio P Series beat them to the punch, taking all the glory with a similarly styled netbook.
I wouldn't get too attached – it's a prototype and a prototype it shall remain. Lenovo have no plans to revive this miniature project, much to the disappointment of many.
[via iGizmo]
Check out some real netbooks here