USB hub caters to the needs of the portless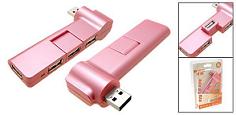 It's only a USB hub, but for some of us, USB ports are imperative tool to the daily workings of our lives. If USB hubs weren't thrown at me on a regular basis, making me look like some kind of strange port obsessed hub hoarder, I'd be on the lookout for something like this. Yes, it's not aesthetically pleasing, but it fulfils those USB port providing duties well. And if you're one of those connectivity unfortunates with a laptop (let's say the Macbook Air) with only one USB port, which quite frankly just isn't good enough, it's clear you're going to need assistance.
The Revolving Hub does exactly what it says on the tin in the picture. There are four ports to make use of – one of which rotates up to 90 degrees to deliver that plug and play flexibility.
It's only £5.50, which is chump change when you consider how much easier your computing life will be. Don't like pink? Touch, it's the only colour option available. Grab one here.
More like this here