The GoGear Ariaz makes premium audio quality affordable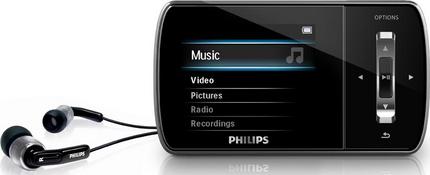 It's a common misconception that the smaller the MP3 player, the worse the sound quality. The latest kid on the block from Philips aims to make you re-evaluate that notion, as they've jam-packed their new GoGear device with a wide variety of top notch features. The Ariaz MP3 player features Full Sound technology which delivers crystal clear enahnced audio, and with that you get up to 16GB of storage. It's contained in a tiny 12mm thick shell with a 2 inch LCD, and you navigate around your content with their cleverly designed rocker key.
One of the main gripes I often have with MP3 players is the abysmally poor quality of the headphones that get bundled into the box. They often get discarded within a couple of days, and replaced with a pricier pair. Well with the new Ariaz players you'll be more than happy with their headphones, as they've decided to package every player with some impressive sounding 'phones. You'll get ergonomically designed buds that feature turbo bass air vents, for deeper, stronger bass and angled acoustic technology for a full on music experience.
The Ariaz also includes an RDS FM tuner and a built in mic to allow voice recordings. They also say the Ariaz is programmed to allow easy movie downloads, but as they don't seem to have any info on Wi-Fi capabilities I'm not sure what they mean- a quick USB 2.0 connection perhaps?
Price wise we're told they'll be mid-range, so anywhere from £30-£60 is my guess, and they'll be available later this year.
Philips

See here for more audio goodness