Thanko's USB Boob Warmer will keep your baps warm in sub-zero temperatures
Well done to everyone who braved the bitterly freeeeezing cold weather conditions last week as the UK decided to quite literally freeze over. Didn't it give the impression that if you were to step foot outside you would freeze over almost instantly?
One of the uncomfortable side effects of sub-zero weather is frostbitten nips. This particular occurrence is never fun – it hurts slightly and causes unsolicited stares from ogling men (and women). Would a boob warmer ease the pain somewhat? Perhaps, but would you really want a couple of cashew shaped pads with wires hanging out permanently affixed to your bra? I can't imagine doing this in the office would be easy. Thanko (the makers of the Butt Warmer) refers to them as bust pads, so they could even give your boobs a Wonderbra-style boost. Does this make them a bit more desirable?
$22 USD will get you a pair of boob warmers however, they only seem to be available on its Japanese site. They haven't quite made it to the English site yet. So let's hope they do before the weather depletes any further.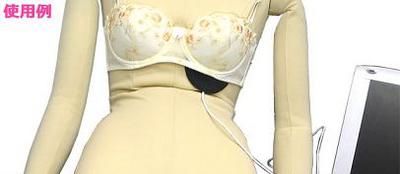 [via Crunch Gear]
Like thanko gadgets? Take a look at these: Pirate flavoured headphones from Thanko| USB necktie with built in fan – from Thanko, of course