Philippe Starck Parrot speakers – tights sadly not included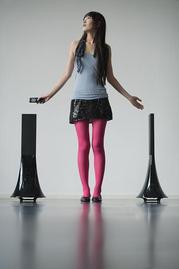 How cool are these girl's tights? I know, right! If she likes these speakers, then I think I will like these speakers. And whatever she's listening to, that's what I want to listen to. And whatever she's done to be able to afford these £1200 wireless speakers by Parrot, I want to do that too.
Since they're from Parrot they are of course totally Bluetooth'd up, and they're actually a collaboration between them and Philippe Starck (Phillipe – if you are reading this, I am wearing one of your watches *right* *now*). There's an integrated iPod dock, or you can stream it from your computer via WiFi if Bluetooth ain't your thing.
The Bluetoothness means there's only a power cable for each, so you can position them wherever you want, and there's 360 degree immersive sound, thanks to "an extra-flat membrane which creates small-scale vibrations across its entire surface" (sometimes it's just easier to put things in quotation marks, ok?).
You can get them here.