HP's Mini 2140 netbook gets UK confirmation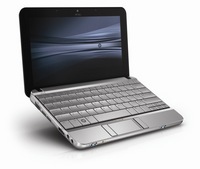 Amongst all the chaos surrounding CES this year, Zara got wind of HP's plans to expand its UMPC range with the Mini 2140. Details of a UK release date were obscure, so we weren't entirely sure it'd be heading to our shores, until now. The blogosphere tells us the HP Mini 2140 now has UK price tag – £379, to be exact – so it'll definitely be heading our way soon. February is what we're being told.
HP says it's aimed at the education and business sectors, but I shouldn't see why anyone not associated with learning and business shouldn't want it with an equal amount of desire. And why wouldn't they? With a 10.1-inch, 16:9 display, Intel Atom N270 1.6GHz processor, 2GB RAM, the option of a 160GB HDD or 80GB SSD, 92 percent of a regular keyboard and a transport friendly weight of 1.19kg, it's as good a contender as the rest of them.
[via Pocket Lint]
Like this little laptop? Check out Zara previewing it here