CES 2009: HP Mini 2140 netbook PC announced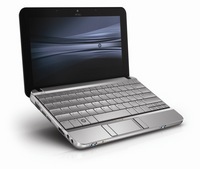 Continuing the craze for netbooks,HP has expanded its range with the Mini 2140 Notebook PC. Quite how this 10.1 inch baby will provide you with the functionality of a PC whilst squeezed into this tiny aluminium chassis I'm not sure, but the fact that the keyboard is 92% the size of a regular QWERTY board fills me with hope. A UMPC where the keys are easily distinguishable? Fingers crossed.
It features an 80GB solid state drive, a feature we're seeing more and more in netbooks these days, which means ultra fast start up times and quick processing of applications. They've bundled this in with the HP 3D Driveguard which contains a three axis digital accelerometer chip that automatically shuts down your screen when it gets knocked, protecting it from unexpected data loss.
It includes an integrated VGA webcam (no info on megapixels yet), and contains the usual Bluetooth and WLAN features you'd expect. The pricing and the keyboard size are the real selling points of this device, and I'd like to get my hands on it to see if it will live up to its frankly impressive specs.
It will retail for $499 later this month. No word so far on a UK release date.