Hello Kitty's next triumph is the Flip Mino and MinoHD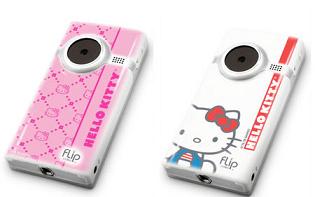 My god, this girl gets around doesn't she? I don't know how this one slipped underneath the radar, but while cruising the web I came across these wonderful Hello Kitty Flip modifications. Both the Mino and MinoHD have been given the Hello Kitty makeover and don't let the picture fool you , there are more than two designs – there are in fact 11 – which as a HK fan, even I can admit is perhaps a little excessive.
So, the worlds of one touch hi-quality video recording and Hello Kitty have joined forces and all 11 are yours for the taking, which sadly for us, only applies Stateside. But the good news is HK fans – it would appear that Hello Kitty doesn't come with added bling value, as both the Flip Mino and MinoHD retail for $179.99 and $229.99 respectively – the same price as camcorders from the non-Hello Kitty Flip family.
[via
Engadget
]
Hello Kitty loving fans click here