CES 2009: Steve Ballmer talks Windows 7 and Halo 3
Steve Ballmer, what a man, He struts across the stage like a benevolent uncle whilst spewing forth phrases that can't have taken his speechwriter long. After making a joke about how Gates complains he won't accept his Facebook friend requests and a couple of pictures showing how multicultural and diverse Windows is (think various ethnicities posed in family style pics) he launches into the heart of the matter. Oh wait, he doesn't. We still have a couple of congratulatory sentences to go and a video showcasing about ten Windows product per still image.
He talks about how Windows aims to be a convergence of three ideas, the TV, phone and computer, and even has a nice little slide to illustrate it for the uninformed. Then we get into shadier territory as he talks about how Windows is the lynchpin of 'peoples technology solar system'. Um, right.
Finally the point, the new and improved Windows 7 which enters beta stage worldwide from Friday. It looks strikingly similar to MAC OSX and has similar widgets alongside the bottom of the screen, right clicking to bring up contents etc.
It does have a couple of nifty features such as the 'Play To' option where you cans stream music from your XBOX or home network to speakers of your choice.
Windows Live has been updated as well, as they've just signed a partnership deal with Facebook which adds aggregation of various networks to your home page. Yes, those drunken snaps will haunt you forever now, as Twitter, Flickr etc are collated in one place.
The new Windows 7 will purportedly load quicker, have less issues and create a 'new media experience'. All new Dell laptops will come preloaded with the software, and in a new move they've added touch capabilities into the programming, to enable various manufacturers to adapt the devices to their needs.
It's interesting that touch is being so integrated as this would imply they're thinking of expanding their mobile phone devices, where it's most commonly used.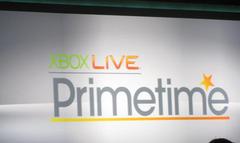 Next up we get Robbie Bach to expand on Microsoft's gamming options. 2009 will have gaming fans delirious as not one, but two new editions to the Halo franchise are being released. Yes, Halo Wars will be out on feb 28th, with Halo 3 lurking later that year. XBOX are also expanding their online portfolio after a huge rise in profits (could this be because they cut the console price? I think so!) this year.
They're adding a Community Game feature which looks a little bit like Little Big Planet with the Kodu game we saw demonstrated. In it you create a user generated landscape and play with your character and interact with other people. It must be fun- a twelve year old demonstrated it for us as it's designed to help kids learn how to programme.
We can also look forward to PrimeTime on the XBOX, which contains various mini games to add a community feel.
All in all, Windows 7 is the most impressive of the news, but seeing it's pretty much a Mac rip off I'm not that enchanted.