CES 2009: Barbie Digital Nail printer from Mattel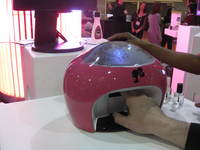 Beauty has always been big business, but when it melds with tech we always seem to get something extra special. Everyone's favourite fantasy figure has released a home nail studio kit that's actually rather cool. Aimed at the youth 'girly' market (well it's in pastel pink) the digital nail printer falls into the Beautronics sector. This pink printer hooks up to your PC and gives you the option of printing custom designs straight onto your nails. Yes, STRAIGHT onto them.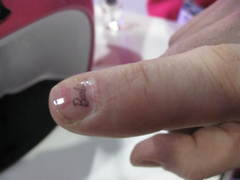 You can see in this image where the Barbie logo was pressed onto one lucky/unwilling vendor, and there are 1000's of design to choose from. The more creative also have the option of uploading their own design to the server, and you can view the design before prinbting with the built in video camera on the device. The nail designs print in a specially formulated cosmetic grade ink, and means a nation of girls worldwide will continue to be told off by their teachers. It should be out later this year, and so far there's no word on pricing.