Top tips on recycling your gadgets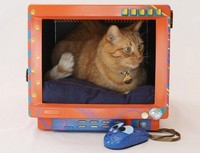 New gadgets for Christmas are great, but what to do with the gadget it has usurped? Anyone who's got an Old Mobile Phone drawer will be familiar with the problem, but worry not, as we're here to help. There's money making options, there's good recycling karma options, there's options for those with a crafty finger – we've got it all.

Local recycling
Councils are getting more recycling savvy all the time, and the best place to find out how your council stacks up is at Recycle Now. They've got a postcode search, which will give you a list of any collections that are made, when they happen and what's accepted. There's also a list of local recycling centres, which is probably what you'll need if you're recycling electronics.

Freecycle
Freecycle is a fabulous resource both for anyone looking to get rid of stuff and those looking to get summit for nowt. There's 6,222,000 members across the world, and they're all split into local groups, so you can minimise travelling in order to pick up your stuff. There's no money involved – the idea is just to keep stuff that's still got life left in it out of landfills.
Ask the retailer
Some shops now accept your old model of electrical if you purchase the new one from them. They will then recycle them appropriately. It's mostly larger items, such as TVs and washing machines. Again, you can find out who supports this at Recycle Now.
Recycle your mobile
There are loads of sites which will take your mobile off you hands. Mopay, for instance, will either give you the cash or donate it to a charity of your choice, with newer handsets demanding greater cashback.
eBay
If you've got something that's still relatively current, take the time to stick it on eBay. Obviously full packages fetch more cash, but even those things without instruction manuals/chargers/boxes are worth a punt. And if you've just got the charger – you could be the perfect match for someone that's just got the gadget!
Repurpose it
Our sister site Crafty Crafty is a veritable treasure trove of crafty goodness, but my favourite is this computer monitor that's been turned into a cat bed. There's an Etsy shop selling them for $110 each, but it wouldn't be too difficult to do yourself.
Swap it
One person's junk is another person's treasure, and just because you're sick of your MP3 player doesn't mean there's no one to appreciate it. We have swapping parties quite often here at Shiny Towers, and they're always popular with those on a budget i.e. all of us.
Got more recycling tips? Drop us a comment and win Environmental Karma Points.