Blackberry Curve 8900 to debut at Carphone Warehouse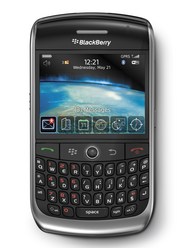 Today BlackBerry has released news of their latest model, the sexy slimline 8900 Curve which promises you the functionality of the Storm, without the touch screen. Whether or not you like touchscreens could be the deciding factor on whether you opt for this model, as some prefer a full on QWERTY Blackberry keyboard.
We heard about this phone back in November when it was tentatively called the Javelin but we can tell you the official name is now the Curve 8900.
You're looking at a device with a 3.2 megapixel camera with auto focus, digital zoom and flash, which is slimmer than any previous models. At 110 grams it's 45g lighter than the Storm, and size wise it's 13.5 mm thick opposed to 13.95 mm. Where it loses out is the screen size (naturally) as you're looking at a 2.4inch HVGA screen rather than the Storms 3.25 inch touchscreen.
The 8900 comes with internal GPS which includes Blackberry Maps, Wi-Fi, but no HSDPA, and comes with a paltry 256MB of internal memory. You can expand it up to 16GB via the MicroSD card slot, but compared to the Storm's 1GB of onboard memory it's definitely lacking. The lack of 3G connectivity is surprising, but as Blackberry's go this is a fairly standard handset
I like the inclusion of a lock button on the top left corner, and the keypad felt very intuitive. Watch this space for a video review.
From from free to £234 from the 20th Dec at Carphone Warehouse.
See here for more phones