Avoid poisoning party guests with the talking meat thermometer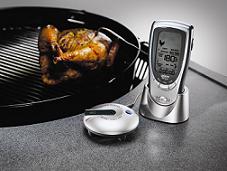 Poisoning your party guests is never going to be a good thing – unless you're embroiled in an evil plot to kill your 89 year old lover to get your hands on his fortune (and you're in a movie of course). And if like me, cooking is a rarity, it's probably fair to say you wouldn't be able to tell your cooked steak to a medium rare one, to one that'd result in vomiting guests. If this describes you, you should think about getting the Audible Meat Thermometer from Weber.
The guessing game is over. It'll tell you exactly when your meat is cooked to perfection and if you happen to be multilingual you can be told in one of five different languages (English, French, Danish, German or Spanish). Once you've decided how you want your meat cooked, stick the sensor in and simply wait for you meat to brown… or not. When cooking is complete, the wireless thermometer (with a range of 30 meters) will literally tell you when your food is ready for consumption.
And when summer rolls round, you can whip it out again for your barbecue party. None of that burnt on the outside, raw in the middle food for you. And your guests will leave happy, as opposed to mouthing to each other that the food was awful and they're never going to one of your barbecues again.
Granted, it's not very exciting, but it'll prove extremely useful those who don't cook (can't cook) that often. £50 here.
Weber
Like this? Read this: SensorfreshQ: Meat & Poultry Freshness Tester