AKG headphones are great gifts for every price bracket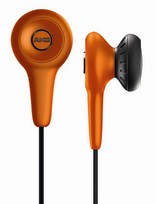 When I first saw the range of new headphones from AKG I was tempted to display them to you in gallery format, but then Dan beat me to it!
They're still exciting enough to share with you though, as they range in price from £6.99 to £99 meaning there's something for every budget. You can start with the K309's (pictured) in juicy orange, moving up to the sound isolating K430's (below) for £49.99 finishing with the K450's at £99.
AKG headphones are part of the Harmon Kardon family, so you can expect superior sound quality and impressive bass controls. All 'phones include comfortable ear pads, and are iPod compatible.
Get them from AKG
See here for more audio