Why not stretch your loved ones' faces onto baubles this Christmas?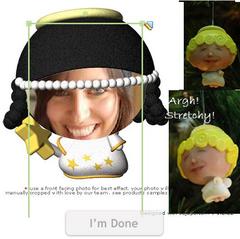 As you can see, this DIY 3D Christmas decoration service from JuJups isn't entirely successful – unless you happen to have a big wide face with an expanse of bald head to keep the bauble looking tidy.
You could, of course, spend a bit more time cutting your face out and then pasting that onto the bauble, but I like to keep my photo editing as amateurish as possible, and it's a miracle I even got as far as I did. Luckily, the editing team at JuJups promise that your image will be "lovingly cropped" before they send it out, which is just as well.
The 3D Christmas figurines cost $19.95 and are available in the US and Europe.