The Disgo Video Fun: Does what it says on the tin?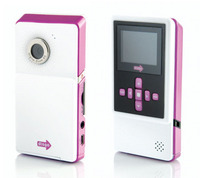 Let's be honest, here at Shiny we've never been that impressed with the Disgo. Sure, we found it quite entertaining when the identikit Busbi came along, but other then that, hmm. I think we've just grown so accustomed to top of the range camcorders that we've forgotten the simple pleasure in an affordable (if basic) video camera. The Disgo Video fun aims to put the entertainment back into home movies with this cheap and cheerful camcorder.
It comes in three colours, Ocean Blue, Passionate Pink and Piano Black, and comes with all software pre-installed so there are no worries about losing important CD's. So what do you get? Well there's a 1.5 inch screen to view your masterpieces on, and it comes with a 1GB SED card, which should garner you an hour of footage. It features a digital zoom, a self timer, and but can also double as a webcam. It's powered off 3 AAA batteries and is bundled with editing software. With this you can create photo effects, greeting cards and video emails.
£49.99 from Disgo
See here for more video cameras