Shiny at IFA 2008: Transcend's T.photo 720 Digital Photo Frame is great at multi-tasking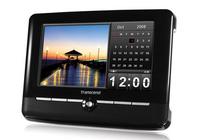 Another digital photo frame is soon to hit the stands, and this time it does more than simply show digital pictures. As well as displaying images on its high resolution 7 inch TFT screen it also doubles as a clock, a radio a calendar, an MP3 player and an alarm. That's a lot of features on a small package, and we're not finished yet. The T.photo uses NaturaTone intelligent skin color enhancement to create natural looking images, and the screen uses an AOS (Automatic Orientation sensor) to adjust landscape and portrait images.
They've included a MobileCard slot so you can pop in M2 and microSD cards for easy uploading and there's also a USB port.
No info on price or release date in the UK as yet.
Transcend