Creepy Bins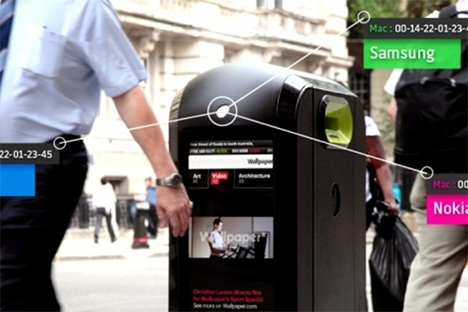 If you've walked through the City of London with your phone's wifi
switch on then you could have been part of a weird experiment. Renew London,
as reported by Vice, put wifi detectors into bins.

What's the point? If your wifi is switched on the bin could remember your phone's
Mac address. If it records your Mac address every time one of the bins on the
network pick it up then it could learn your route to work, where you go and even
what shops you go into. And then display adverts on the screens on the bins (yeah,
they have screens on bins in London now, and we think this is normal), that are
more relevant to you.

For example - if it detects you go to a sandwich shop every day, a rival sandwich
company could pay to advertise on the bins. More creepily there was even plans
to put these wifi detectors above toilet doors in pubs, so the advertisers could figure
out what gender you are, in addition to where you go.

Thankfully the authorities have made them put a stop to the pilot - but don't be
surprised if we see more of this in the future.
Tesco have made headlines today after unveiling a new technology that will scan your face as your buy petrol from a Tesco petrol station. Using this information, it will estimate your approximate age and gender – and then display an advert it deems most relevant to you.
This has caused controversy though as… well… it's a bit creepy, isn't it?
It's not the first time that technology has crossed this line though – so here's our pick of the five creepiest technological innovations.