Waze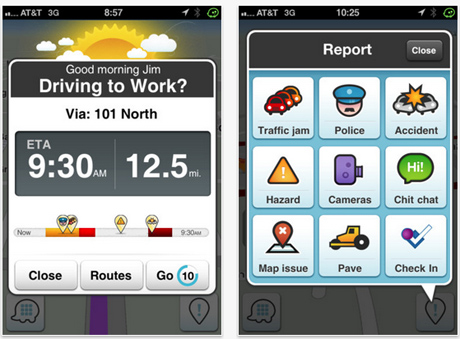 Waze is a traffic navigation app that serves up maps and information based on
crowd-sourced data. This way users can get an up-to-date (and nearly realtime)
peek at what traffic is like near them. Waze is only really for drivers and shows
you the best way to get from A to B with voice guided navigation and any alerts
that other members have uploaded. There's an interesting community element to
Waze too, as you get rewarded for contributing and making changes to routes and
data.

Waze is available from iTunes for free.
So you either updated to iOS 6 or you bought an iPhone 5 and then WHAT'S THIS!? A DIFFERENT MAP APP?! Let's all cry and get mad and throw our phones at the floor. Wahh :(:(:(:(.
We get it, you're all sick of Apple Maps, you think the navigation sucks and you want to moan and rant about it. STILL. But come on guys, let's accept the fact maps aren't served up to us in quite the same way as before and either get on with it or look for some alternatives.