Google Nexus 7: Good for gamers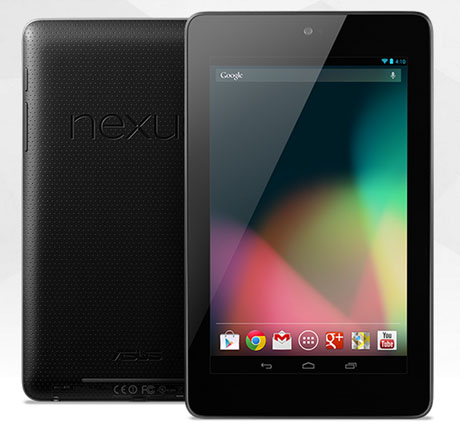 The Google Nexus 7 tablet, made by ASUS, is touted as a super simple and
portable tablet weighing in at 340g (slightly lighter than the Kindle Fire and
Galaxy Tab). The tablet is packing a 1280 X 800 high res display with 216 pip,
meaning it won't rival the Retina Display of the 3rd and 4th gen iPads, but it's still
ideal and much better than most of the small 7" tablets for watching HD movies
and playing games while you're on the move.

In fact, gameplay is one of the main things that the ASUS team had in mind when
they were crafting the tablet, with a tonne of features that make it a great one for
gamers, like quad-core performance with the NVIDIA Tegra 3 processor and
gyroscope and accelerometer sensors, not to mention 9 hours of playback time.

The tablet is running Android 4.1 Jelly Bean and as you'd expect there's access
to the 600,000+ apps and games on Google Play.

The only key drawbacks of the tablet after a quick whirl with it are that it's Wi-Fi
only and you can't expand the storage if you're not happy with the model you opt
for if you change your mind later.

There are 8GB and 16GB versions of the tablet, coming in at £159 and £199 and
you can get the larger version from Google Play now. 
At Apple's highly anticipated event in San Jose today, the tech giant unveiled what we've all been expecting for what feels like decades, the teeny tiny (OK so 7.9 inch) iPad we also all knew would be called the iPad Mini.
At the event, Phil Schiller was keen to point out that the tablet "isn't just a shrunken down iPad" (although it kinda is though, right?) but features an A5 chip, Lightning connector, 5MP camera on the back and FaceTime HD camera on the front of the device. There's also Wi-Fi that's touted to be 2 times faster than what we're used to and a whole 10 hours of battery life.
But we'll leave it to Gerald at Tech Digest to tell you more about the iPad mini here.
Although the iPad Mini is set to seriously rock (and flip over and destroy) the tablet boat, there are plenty of devices that measure around 7 inches already on the market, so if it's the slim design and smaller screen you're after then take a look at these before you get into that crazy, crazy Apple fanboy/girl queue for the next few weeks…
Each of the tablets on the list have a pretty comprehensive set of features and will suit most tablet lovers, but we've tried to pick out a few key traits that'll help you decide which is right for you.