Official eBay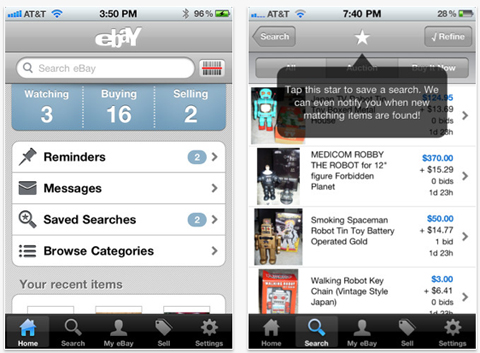 An intuitive and easy-to-use interface that brings all the fun of eBay to your mobile
phone. You can get instant alerts when you're outbid on an item or win an item,
allowing you to respond and up that bid quicker than ever. The app is useful as a
bidding tool, but also comes with an in-built barcode scanner in order for you to
compare prices in the real world and in the colourful marketplace.

This is also a cheeky way of getting an eBay bargain without being sat on your
work computer watching time tick away all day, some companies even block it
because they know this happens far too often!

Again, but sure to check how long it'll take for your item to arrive, some eager
sellers will get products out to you on the same day, others can take weeks!

Available from iTunes for free.
If you dare to venture out into the savage wilderness that is the UK high street at this time of year then you'll be in for a treat, smacked in the head by bargain hunting old women, elbow barged by angry mums with all of their kinds in tow and then forced to stand in a queue for what feels like weeks.
It's no surprise that many of us (most of us actually) have chosen to do our Christmas shopping online this year, but which apps are out there to help us find the best gifts quickly, easily and safely?
But remember: Before you start downloading, clicking and buying make sure you're going to get your gifts in time for Christmas.