Sky Safari 3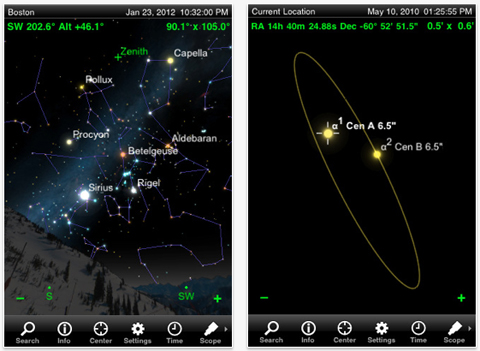 Sky Safari 3 Plus is the updated version of the original and extremely popular
SkySafari. It's a comprehensive app with tonnes of information, star identification
and lots and lots of knowledge about the night sky both past, present AND what's
happening in the future.

This app isn't cheap. But then again, you're asking for an entire universe within your
iPhone, so what do you expect?

The app contains more than 15.3 million stars from the Hubble Guide Star
catalogue, along with 740,000 galaxies AND 550,000 solar objects.

For around 1,000 of the objects, stars and constellations that you see, there's an
entry written by astronomers to give you more details about them. You can use
the app from anywhere in the world and as well as being given information about
what you're looking at, you can also see what that particular constellation looked
like up to one million years in the past as well.

Most impressive of all, if you hold your phone up to a star or constellation, the app
will work alongside your device's built-in compass and help you to identify what it
is you're looking at, so you don't have to try to work it out for yourself, get
confused and give up.

Available from iTunes for £27.99.
Unless you read specialist publications or blogs, you probably won't be aware of the exciting things going on in the sky every night.
Certainly, the mainstream media tends to think we're all much more interested in what's happening on Celebrity Big Brother than whether there's an eclipse or a really rare (and scarily close) meteor passing by the side of our little planet.
In the same way photo editing apps give beginners a sneak peek into the world of photography, editing and different effects, there are a range of apps for stargazers that make the whole topic of astronomy super accessible and applicable to what you can see when you stare at the night sky, whether you're using a special telescope or just hanging out of your bedroom window.
We've collected together a few of our favourite apps for looking at the stars that make the topic easy-to-understand for a beginner, but provide enough detail and resources for if you're keen to find out more.