The Ion Audio Concert Piano: The Ultimate iPod Dock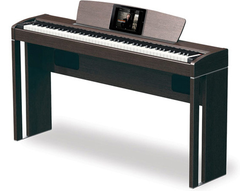 This iPad dock is certainly one of the more unusual ones we have come across. The Ion Audio Concert Piano is an 88-key marvel that doubles as an iPad doc. A full-size digital piano with a "classic wood-grain exterior," might not be every ones thing, but personally I cant think of a better way to show off your iPad.
Unfortunately there is no pricing info available yet, so we are going to just assume its out of our price range.