Gym bunny alert: Testing sports headphones from Philips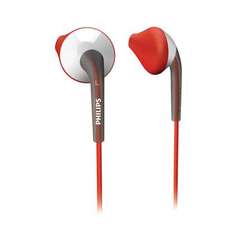 Despite once being a regular gym-goer, I'm no longer the biggest exercise fan in the land. My workouts these days tend to involve lifting cakes out of the oven. But having received a sample of the Philips SHQ1000 sports headphones – which are not only sweat and rain proof but are injected with an antibacterial agent to stop germs building up (eugh) – I decided to dig out the old running shoes and go for a run / jog / power walk / normal walk to test them out.
The in-ear headphones come with covers in three different sizes, meaning you can find just the right fit for your ear. It's always nice to have a few options – at no point was I worried that the headphones might fall out, and they were very snug but comfortable. Also, I used to have a habit of stuffing my iPod in my pocket when jogging, and then accidentally yanking the hanging cable with my arms – meaning that I'd either pull the headphones out, or send my iPod crashing to the pavement (ouch). However, the SHQ headphones have a little clip on the wire, meaning that it won't get caught or move around. (Lucky for graceless, hapless joggers like me.)
But, most importantly, what about the sound? Well, it certainly shows that these are tuned for sports and not just average use – designed to make sure you're *pumped* and working up a sweat, they're exceptionally bassy. So, if you're after a day-to-day pair of headphones purely for enjoying music, they might not be for you. But for anyone looking for an inexpensive and comfy pair of headphones for their daily jog, these aren't bad at all.
Philips SHQ1000 headphones cost around £20.