iPhone 4G: Ten Things You Need To Know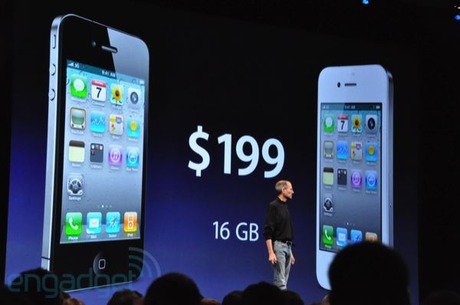 After puffing the iPad, making cracks about the people who couldn't attend (Gizmodo among others, we wonder why) and telling us all about the app store (15000 apps submitted every day..) Steve Jobs launched into a description of the new iPhone. Despite all the cynics out there, we were literally on the edge of our seats for this.
What's new in iPhone 4g:

ONE: silver band around the outside. Looks like an "old Leica Camera" Steve tells us. I'm lapping it up. It looks great, and… functions as an antennae. (don't antennae point upwards? who cares, I dig the post-industrial thing.)
TWO: Thinner: 24% thinner, it's only 9.3mm wide.

THREE: Screen resolution has gone up exponentially, this baby has four times as many pixels as the previous iPhone, it's sharper, more beautiful and uses something called "retina
FOUR: Front-facing camera and a flash for the back of the case camera.

FIVE: Improved battery life: we hope this one's true. Steve promises – "7 hours of 3G talk, 6 hours of 3G browsing, 10 hours of WiFi browsing, 10 hours of video, 40 hours of music…"
SIX: New chip – made by Apple, the A4.

SIX: Gyroscope – this sensor makes gaming even more fun, we're told, Steve demonstrates by knocking over blocks of wood in an app-game.

SEVEN: Those Cameras again – they're 5megapixels, and they're smart. They "capture more photons" and produce good quality images in low-light. And you video call with your other iPhone 4 buddies (only works on wifi).
EIGHT: iMovies, will an extra paid-for app onboard the phone, lets you edit movies as they film.
NINE: Comes in Black and White.
TEN: Price – not bad, $199 for the 16gb, $299 for the 32gb.