Avanquest links with Ancestry.co.uk to reveal who you really are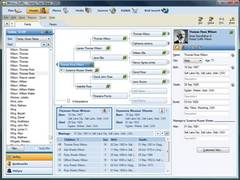 With the BBC's exploration of celeb family history Who Do You Think You Are? due to begin again in July, Avanquest has announced the latest version of its genealogy software, Family Tree Maker Deluxe v4. It's the latest way to discover that, rather than being a direct descendant of Shakespeare, your oldest known ancestor was a pig farmer called Cornelius.
Designed to work with Ancestry.co.uk, the new package lets you produce slideshows, create and swap family books, upload images and share other information such as birthdays and anniversaries. Users can get the first three months free on a trial period (which would usuallly cost £32) and will be able to access a staggering 865 records to gain an insight into their past.
For more details, go to the Avanquest Software Publishing site.