Android Awareness: techies love Android, but customers don't know what it is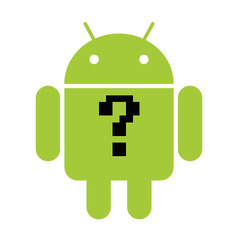 I was struck by this all over again at the weekend when a friend let me play around with her phone. My friend's not a tech-head but she's a pretty switched on sort of person, uses the internet all the time and uses cameras for work.
Anyway she had no idea her Samsung i5700 Galaxy Lite phone was on Android, didn't know what Android was and didn't know that she could buy apps with it. Comparatively she did know about iPhone and several iPhone apps, even though she didn't have one.
If you start talking about "Android" people faze out on you like you are recounting plot twists from early Star Trek episodes. The sort of comments you get include: "What's an operating system?"; "Oh is that market thing an app store?" and the classic "but Google's a search engine right?"
Considering what a big deal techies make out of operating systems, it's interesting how little attention customers pay to them.
Android is great, but even people who have it don't know what it is.
Obviously, this doesn't hurt Google. Android phones just outsold iPhones in the US and even if half of those customers don't know what they're buying, Google is still shifting Android units.
But it does in my opinion point to a PR failing on Google's behalf. Largely, they don't have to bother much with advertising – their search engine and gmail services have both been huge successes simply because they're great and spread by word of mouth. Sometimes Google do push the boat out and buy out paper ads and TV time to advertise things like their new browser, Chrome – with success. People mention Chrome to me a lot. Not always in a way that suggests they know what they're talking about.. but still, the name recognition is there. Whereas stuff like Buzz is an example of when Google put out a good product, rely on word of mouth and but none of the general public have a clue what's going on and they fail to come up with a compelling narrative that makes their products seem useful. Or even memorable.
By contrast Apple PR is a well-oiled juggernaut.
Of course the iPhone story is easier to tell than the Android story. There's only one iPhone and there are dozens of Android phones. When hardware, manufacturer and network are all different it can be hard for consumers to grasp that what's on the inside can be the same.
Still, considering the amount of money people have to spend on their phones these days, phone companies and tech companies have got to start educating people more about what they are buying into.