eBay's Fashion Outlet shows Auction Site is more about TopShop than attic junk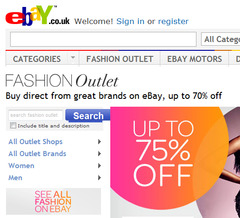 EBay made its name as the place where people sold weird stuff they found in their attic for £2.50 and buyers engaged in bidding wars for vintage records and err, seashells that look like ears.
But eBay today has shifted pretty far from its early image and now over half of items on sale are selling for a fixed price, big brands sell direct to consumers and the most popular items for sale are clothes and shoes.
And consumers don't just want items, they want brands: people aren't searching for 'red dress', they are searching for 'TopShop' according to eBay research. Or in fact for 'Karen Millen' "which is consistently one of the most searched-for terms on eBay.co.uk.
Soo… the opening of a fashion specific outlet where brands sell clothes makes a lot of sense.
eBay's new Fashion Outlet is now the second tab on the ebay.co.uk homepage and it provides a space for big brands including Kookai and Office to set up shop fronts and sell clothes at fixed prices direct to customers. Brand pages hosted on the eBay site tend to replicate the e-retail sites of the shops themselves, and in most cases the brands are selling stuff that is exactly the same as on their own online retail stores (though Office and Schuh have produced some special edition items just for eBay). Oh and there are some big discounts too.. up to 75% off on Kookai at the minute for example.
If you're wondering what the point of brands replicating their own websites on eBay is? – the answer is pretty simple: eBay's huge digital footfall – it claims to be the most visited online shopping destination in the UK (according to hitwise) and that more than 17m shoppers visit eBay.co.uk every month (according toNielsen NetRatings)
Go check it out here: ebay Fashion Outlet